After the resounding success of the pop up concert in Kino Rye in 2015, we are delighted to announce the details of two free pop up concerts as part of the 2016 Peasmarsh Chamber Music Festival.
This year cellist Christoph Richter will perform Bach's Cello Suite No.2 in D minor in two free pop up concerts, one in Kino Rye and one in Jempson's Peasmarsh.
Do not miss this opportunity to experience a world-class recital in a relaxed atmosphere and meet one of the Peasmarsh Festival artists!
---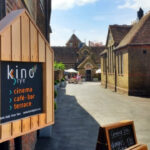 Tuesday 21 June 2016, 6:30 pm
Kino Rye
Lion Street (opposite the Town Hall and near St Mary's Church)
Rye, East Sussex, TN31 7LB
Thursday 23 June 2016, 11 am
Jempson's Peasmarsh
Main Street
Peasmarsh, East Sussex, TN31 6YD
---